Product Information
COMBAT MOULD, CONDENSATION & DAMP
Protect your home from the damage caused by damp and condensation with the ElectriQ CDW12L Slim Wall Mountable Dehumidifier. Suitable for flats and homes up to 3 bedrooms, this compact dehumidifier provides a cost effective solution in combating damp, mould and condensation.
It works by removing the excess moisture and humidity in the air that can encourage the growth of common allergens (mould and bacteria) which can cause harm to a person's health and home.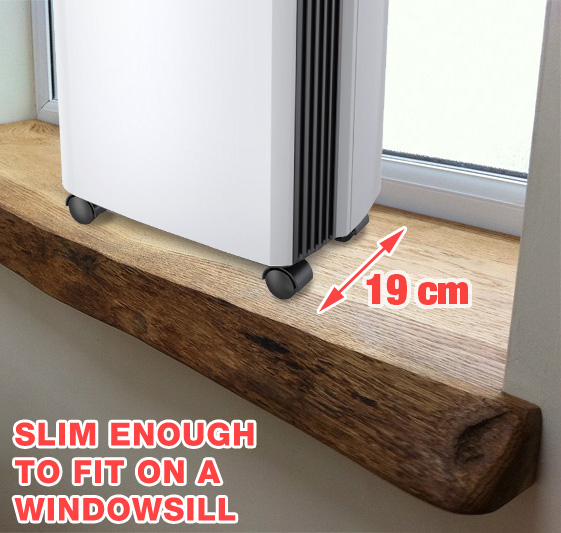 SLIMLINE DESIGN
This mini yet mighty dehumidifier is the smallest fully fledged compressor dehumidifier on the market that's poweful enough to extract 12 litres per day. Measuring in at a depth of only 19cm, this slimline dehumidifier is perfectly sized for to position out of the way on a windowsill and features an integrated handle and durable castor wheels for easy manoeuvrability.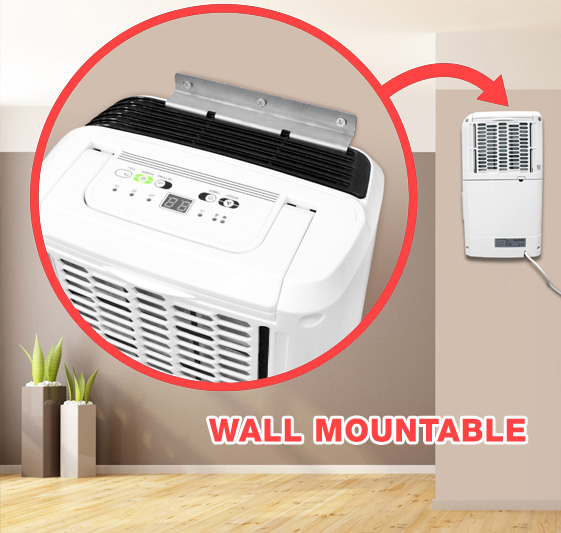 WALL MOUNTABLE
If you require a dehumidifier but floor space is an issue then the ElectriQ CDW12L Slim Dehumidifier is for you. It's specially designed to support a wall bracket (sold seperately - CDW12L-BKT) so that you're able to mount it to a wall out of the way - ideal for classrooms, gyms, offices, libraries, museums, boats, caravans etc.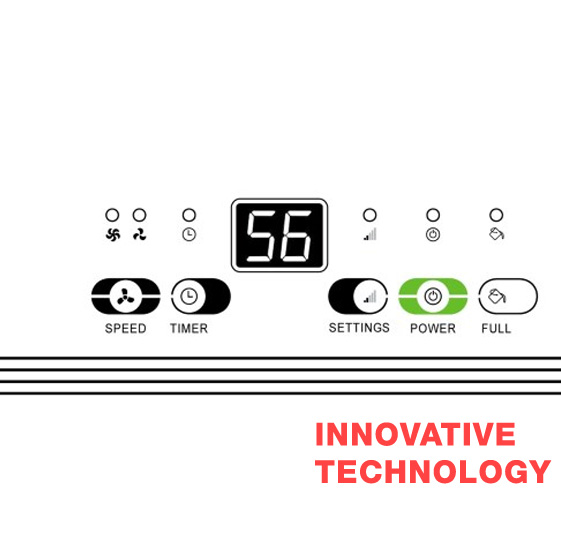 FULLY FEATURED
For total peace of mind, the CDW12L features timer settings and automatic shut down technology that powers down when the water tank has reached full capacity. The CDW12L can also be set up for continuous draining by connecting a hose into the drain outlet at the back. An adjustable advanced digital humidistat ensures the dehumidifier always operates at maximum efficiency.
Features
Space saving design perfect for flats up to 2-3 bed houses
Great for wall mount in classrooms, gyms, offices, libraries, museums, boats, caravans etc.
Reduce or eliminate mould, damp, condensation
Economical to run with Digital Humidistat controls
Slimest dehumidifier, with a depth of only 19 cm it is small enough to fit on windows sills
Easy to use control panel with LED Display
24 hrs Start / Stop timer
Washable filter so no additional costs
Water tank full and defrost indication
Wall mountable with optional wall mounting bracket and fitting template (sold separetely)
On castors for portability
Adjustable digital humidistat from 40%-80% RH in increments of 5%
Laundry mode setting at 40%RH
2 Fan speed for perfect balance between maximum dehumidification and quiet operation
1.5 L Water Tank
Continuous Drainage Option
Wall Mountable (with the optional CDW12L-BKT) or Free Standing use
Power: Max 240Watts, 1.5 Amp
12l/day water extraction (at 30°C, 80% RH)
Airflow: max. 140 m3/hr
Dimensions
W x H x D: 280 x 470 x 190 mm
Weight: 10 Kg

Download Instruction Manual