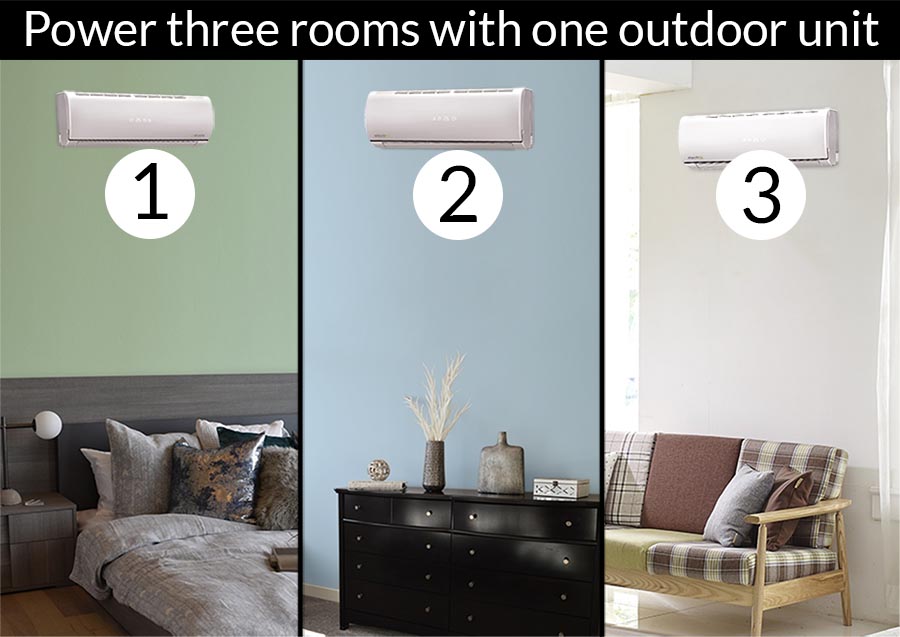 SPACE-SAVING SOLUTION
Unlike conventional split air conditioners that require a separate outdoor compressor unit for every room, this advanced multi-split air conditioner system is designed to power three rooms from a single compressor. This not only improves both outdoor space and external aesthetics, it also saves on expensive installation and running costs too. Plus, each indoor unit has its own remote control, allowing for individual control of both air conditioning units.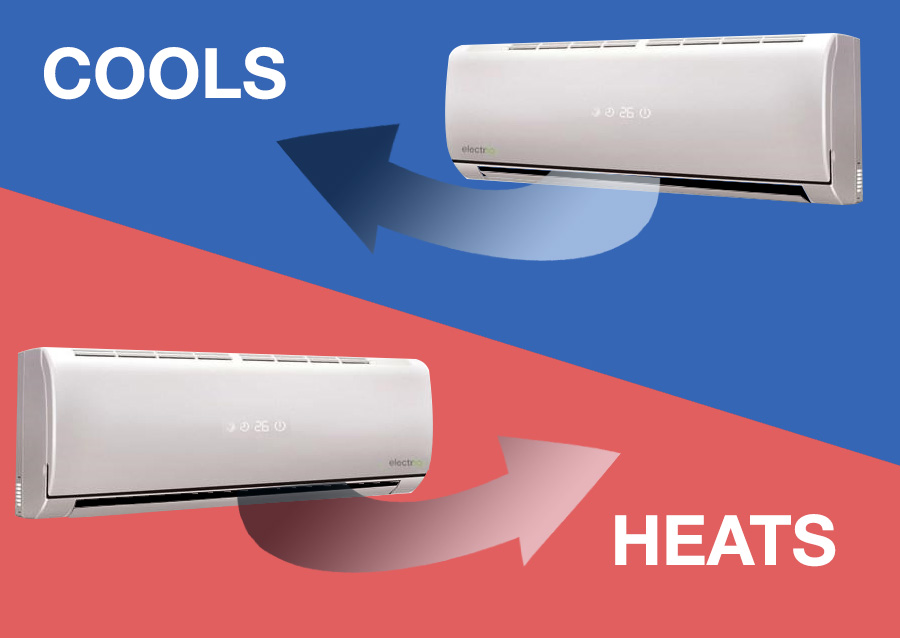 ALL-YEAR-ROUND SOLUTION
The stylish unit is an air conditioner for all seasons. It features both a heating and cooling mode to help you remain toasty in the winter, and cool in the summer. Plus, there's even a built-in dehumidifier that helps remove excess moisture from the air to create a healthier environment, and is great for drying your damp laundry indoors when it's raining out. The electriQ multi split Air Conditioning System comes with an impressive 5 year warranty.
UNRIVALED PERFORMANCE
This cost-effective, energy-efficient system will economically cool or heat rooms up to 65 sqm in size. It boasts the very latest Inverter technology that will reduce or increase the compressor speed according to fluctuation in temperature dependent on your required heating and cooling levels, thus saving you between 40%-60% on your energy bill when compared with a non-inverter equivalent which has fixed compressor speed. It also has the added advantage of being exceptionally quiet so you will forget it is even there.
Features
Controls the climate of 3 rooms from just a single outdoor unit
Outputs 3x9,0000 Btu/h (variable speed inverter) cooling and heating
A++/A+ Rating 2019 ERP
Super DC Inverter with Panasonic compressor
Cooling, Heating & Dehumidifying
Easy Fit with 5 meter pipe and cable kit supplied as standard (optional 10 meter pipe kit available)
Energy Saving Inverter Technology
Heat Pump for efficient heating
Ultra Quiet Operation
Remote control for each indoor unit
Digital White Led temperature and function display
Cooling capacity (single unit): 2.65 kW
Heating capacity (single unit): 2.65 kW
Cooling capacity (total 3 units): 2.8-8.8 kW
Heating capacity (total 3 units): 2.45-8.8 kW
SCOP: 5.1 A++ / SEER: 6.1 A+
Warranty: 2 years parts & labour+3 years parts
24 Hour Timer
Self-diagnostic function
Sleep Mode
Auto Restart
Dimensions:
L x W x H: 77.7 x 20.1 x 25cm (per indoor unit)
L x W x H: 96.8x 37.5 x 65.5cm (outdoor)
Net/Gross Weight: 8 / 10.5(indoor)
Net/Gross Weight: 46 / 51(outdoor)
What's in the box?
The iQool-3MS9K9K9KB is an easy Install DC Inverter and is comprised of 4 main units (3 indoor units iQool- iQool-3MS9K9K9KBIN & 1 outdoor unit iQool-3MS9K9K9KBEX). There are three internal units which are mounted on the wall of the room/ rooms you wish to cool supplied with indoor wall brackets, and then the corresponding external unit (called the condenser) which sits on the ground or on a wall bracket (can be purchased separately if required ) on the outside. Also in the box is a 5 meter coil of interconnecting copper pipe, electrical cable and a remote control.
How to Install
Our units are designed to reduce the installation time. The indoor and outdoor units are pre-gased and sealed and they come with a pre-flared pipekit enabling the qualified fitter to easily install them. The indoor units should be fitted to the wall using mounting plate supplied in the box. The condenser should be fixed on the ground or wall mounted on the outside of the wall with the optional wall-mounting bracket. The unit is supplied with a 5 metre copper pipe that will reduce the need to purchase additional parts. It is also supplied with electrical cable. The unit must be installed by a F-Gas qualified AC engineer. Please ensure the qualified fitter reads the user manual in full before installing.
How does it work?
The outside unit takes the heat from the room, along with any condensation that may have built up in the system, and dissipates it outside. The iQool-3MS9k9k9kB internal units set the room cooling and heating temperature to your exact requirements. You can use the supplied remote control to set your desired temperature and then let the air conditioner automatically regulate the heat throughout the day at a maintained level, without having to change settings yourself. Many of our customers are now installing these super inverter air conditioners for their impressive heating ability as well the cooling.
*These units contain a gas governed by F-Gas regulations. The gas must be handled by qualified F-Gas personnel. 2 year warranty is subject to commissioning by qualified F-Gas engineers. 5 years extended parts warranty is subject to annual service.
What is a BTU?
1 BTU is the amount of heat required to raise the temperature of one pound of liquid water by one degree from 60° to 61° Fahrenheit at a constant pressure of one atmosphere. As a general rule we advise you to buy an Air Conditioner with a minimum 3,000BTUs as this is the minimum required to cool a small room (10sq/m) on a hot day. Medium rooms (24sq/m) need around 10,000BTUs and larger rooms and office spaces (36sq/m) require around 15,000BTUs.
* Note: In order to reduce the Global Warming Potential, the outdoor unit footprint and provide extra energy savings; our outdoor units have a rating lower than the sum of indoor units BTU. Please note this will not affect the cooling or heating in individual rooms as those units are variable cooling inverters and they balance the cooling or heating power among the indoor units to achieve the target temperature in the shortest time. Please make sure you size the rooms as per our guidance or call for tech support.