Product Information
BREATHE EASIER
If youre looking to remove indoor pollutants or unpleasant odours from your home then the electriQ EAP400D Air Purifier is for you. Its uniquely designed to remove microscopic allergens such as pollen, dust mites mold and bacteria that may cause people sleeping problems and breathing difficulties.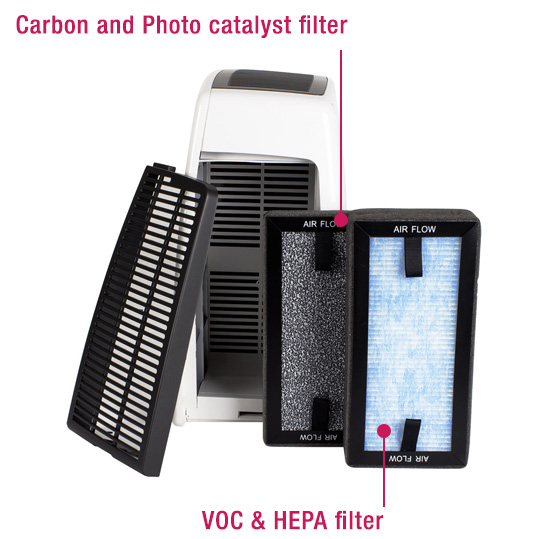 COMPACT ALL-IN-ONE DESIGN
While some air purifiers use one stage of filtration, the EAP400D Air Purifier offers five including a HEPA filter and a UV lamp for a healthier environment - free of toxins and odours. This lightweight model features a built-in carry handle so that it can easily moved.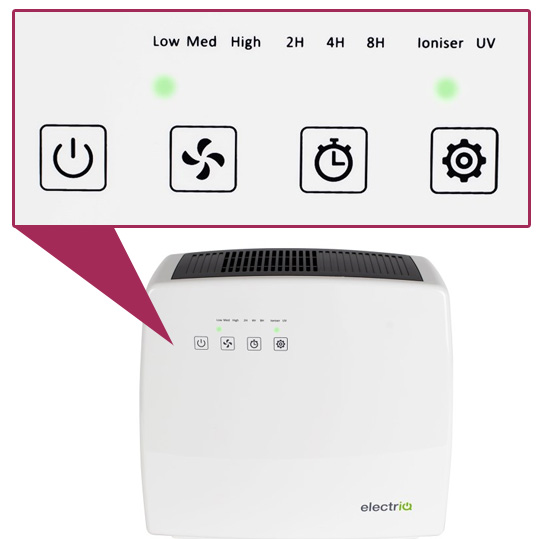 SIMPLE TO USE CONTROL PANEL
The EAP400D features an easy-to-use digital control panel that lets you select the mode, function, fan speed, and power of the air purifier. Theres even a timer mode so you can set and forget, whilst the air purifier works it magic on your home - its never been easier!
5 STAGES OF AIR PURIFICATION

HEPA Filter
Removes 99.9 % of airborne particles of 0.25 micrometres or larger.

Carbon Filter
Removes unpleasant odours and absorbs harmful substances.

Photocatalyst Filter
Titanium Dioxide screen to maximise UV effectiveness to kill 99.9% of germs.

UV Light
Ultra-violet light treatment kills airborne bacteria, germs and viruses.

Plasma Ionization
Sterilizes and removes mould spores and allergens from the air.
Why buy me:
Improves the air quality to your personal use in domestic and office environments
Helps eliminate the smell of second-hand cigarette smoke
Reduces allergens such as pollen in your home
Improve air quality in bedrooms, offices and other medium sized rooms
Key Features
For medium to large sized rooms up to 30 sqm
Ultra quiet and power efficient
Efficiently removes dust and odour in air
Greatly reduces allergens, pollen, fumes, dust mites etc.
Compact size with simple touch and forget operation
99.7% efficient HEPA filter
Long-lasting performance
TIO2 filter and long life UV light
HEPA and CARBON filter
1 Year Warranty
Dimensions:
W x H x D: 329 x 300 x 170mm
Weight: 3.2Kg