Product Information
Protect your dehumidifier for 2 years with this great value extended warranty. The warranty will give you peace of mind for the duration of your policy (2 years from the date of delivery).
Convenient Repairs
Call for instant support if your Dehumidifier fails, is not working, or not performing correctly and we will either fix it for you or replace the unit.
Constant Cover
With this warranty you are covered for the full 2 years. If your unit fails more than once in the 2 years we will repair or replace it each time.
No Excess charges
There are no excess charges involved with this warranty, once you have purchased the 2 years of cover you will not be charged an excess fee for any failures or faults.
Please note, this warranty is available on the below products only: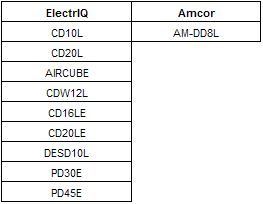 NB: Buy It Direct extended warranties are only valid within the UK and can only be purchased with domestic dehumdifiers. Accidental damages are not covered with this warranty.