Product Information
COMBAT MOULD, CONDENSATION & DAMP
Protect your health and home from the harmful effects of excess humidity with this low energy 12L dehumidifier from electriQ. Suitable for flats and houses up to 3 bedrooms, this powerful yet incredibly energy efficient dehumidifier provides a cost-effective solution in combating damp, mould and condensation. It works by removing excess moisture in the air, encouraging the growth of common allergens such as mould and bacteria.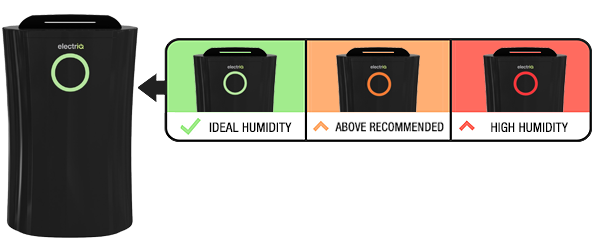 The CD12LEB features a clever light indicator to show the current level of humidity in your room. As the humidity level reduces, the light in front of the unit changes colour from Red to Orange to Green. It's perfect for monitoring the humidity and adjusting the fan speed accordingly to help save on energy usage.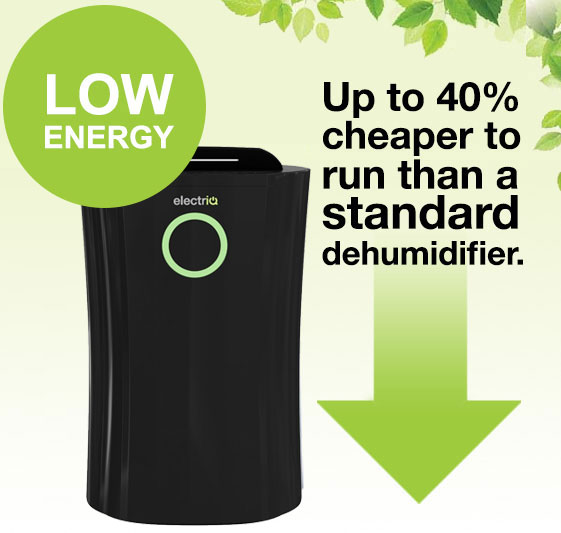 EFFICIENT PERFORMANCE
This efficient dehumidifier is engineered with some very clever technology designed to run up to 40% cheaper in running costs than standard dehumidifiers. There's also a timer function that can be set to switch on/off at a convenient time automatically. So you can have it run while you're sleeping, at work, or at an off-peak electricity period to reduce operating costs further.
BREATHE A SIGH OF RELIEF
As the seasons' change, so does the air quality in your home. Thankfully, the CD12LEB features an advanced air purifier function with UV sterilisation to ensure you breathe clean, healthy air all year long. The dehumidifiers built-in air purifier is designed to remove any microscopic allergens such as dust mites, pollen, mould and bacteria that may cause breathing difficulties.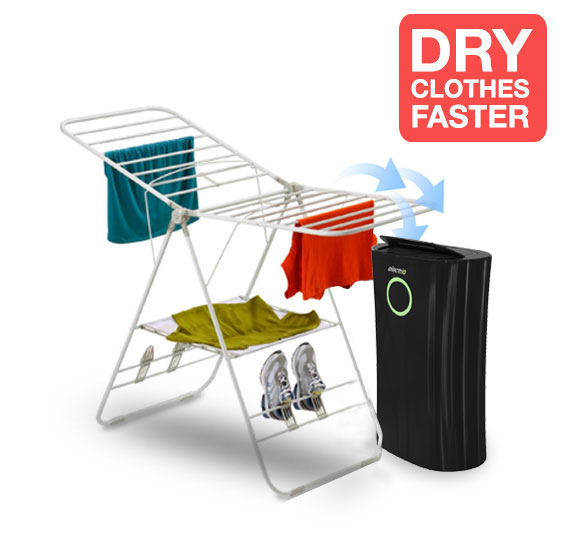 LAUNDRY MODE
If you're finding it challenging to dry laundry outside due to the rain, then you'll be pleased to hear that the CD12LEB comes with a handy laundry mode setting that significantly reduces the drying time of damp laundry indoors. This clever little feature will benefit your heating bills too because you won't have to keep your heating on long to dry your clothes.
Key Features:
Saves 40% of the running costs compared with standard dehumidifiers
Great for flats and homes up to 3-bed houses; also ideal for small to medium size offices
Low energy compressor - uses only 180 Watts
A cost-effective way to combat mould, condensation and damp
Advanced air purifier function with UV sterilisation
Anti-dust oscillating louvres for improved airflow
The Antibacterial tank stops the mould growth in the tank
Anti-spill
Special laundry mode: dries laundry more efficiently than a tumble dryer
One-touch smart mode to maintain optimum humidity
Large spill-proof tank or permanent drainage operation
Castors for improved mobility
Stylish modern design
24 hours start/stop timer
Active Carbon Filter as standard
Technical information:
160-180 watts/ hr power consumption
Extraction rate up to 12 litres per day
Digital humidistat with backlight LCD display showing current room humidity also colour led light green, orange and red for quick and effortless humidity level check
Accurate adjustable humidistat allowing settings from 35 to 80% relative humidity in 5% relative humidity steps
Permanent drainage port or tank use
1 - 24 hour stopping timer
Two fan speeds for a good balance between quiet operation and improved airflow/ performance
Air Flow (nominal): 120 m3/hr
Remember your settings on power off
Max noise level Maximum 42-49 dB(A)
Operating Temperatures 5-35 degrees Celsius
Tank 4 litres
Dimensions:
W x D x H: 38 x 19.5 x 58 cm
Weight: 14 kgs