Product Information

ULTRAVIOLET CLEANSE TECHNOLOGY
Equipped with antibacterial technology to expose every single drop of water to an ultraviolet light, ensuring that 99.9% of bacteria is killed before mist is projected into the room.
EVEN, WHOLE ROOM HUMIDIFICATION
Using air multiplier technology hygienic air is projected throughout the room. Evenly covering a room size of up to 16m2, quickly and quietly.
DUAL FUNCTION FOR YEAR-ROUND USE
An excellent investment, with dual function the Dyson humidifier provides your home with hygienic, even humidification in winter and high-velocity air to cool you in the summer.
ACCURATE CLIMATE CONTROL
The Dyson humidifier has intelligent climate control, measuring the temperature and humidity it adjusts accordingly to create the most comfortable and hygienic environment.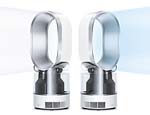 ACOUSTICALLY ENGINEERED
Engineered for up to 18 hours continuous use thanks to an accurate humidistat and efficient water management system, using only one tank of water. You can even use it through the night as its acoustically engineered to deliver quiet night time humidification and has a sleep timer to automatically cut out.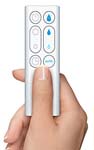 CERTIFIED ASTHMA AND ALLERGY FRIENDLY
The Dyson humidifier has been tested and verified by airmid healthgroup laboratories and is the first to meet the asthma and allergy friendly standard (ASP:18-01/101).
REMOTE CONTROLLED
The Dyson humidifier is simple and easy to use. Equipped with its own remote control for precise air flow and humidity settings. Never lose the control as it is curved and magnetised to store neatly on top of the machine.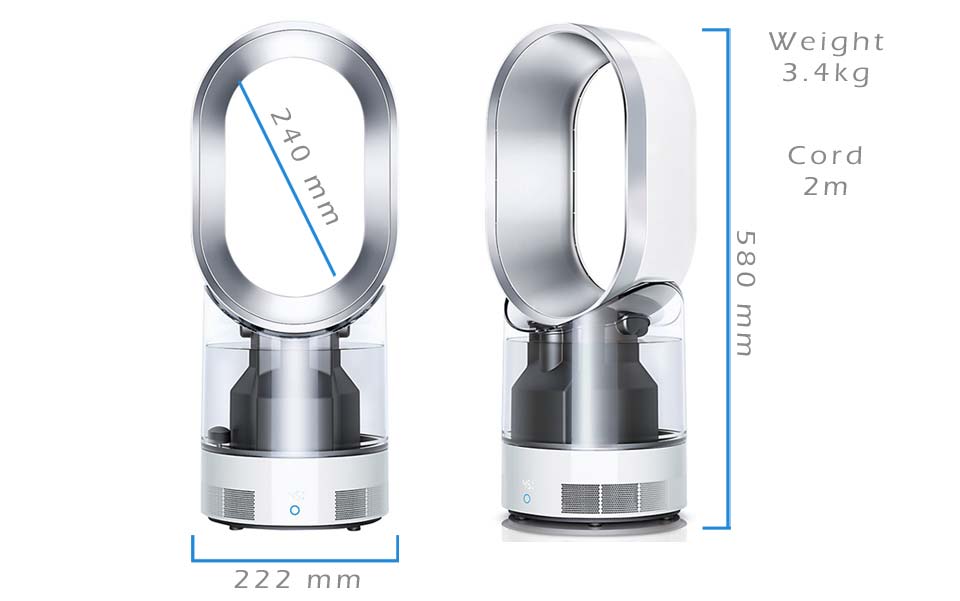 What stands out
Use it all year round as a fan or humidifier
Great for bedrooms, offices, living rooms up to 16m2
Asthma and allergy friendly
Air Purifier feature kills 99.9% of bacteria in the air
Distributes humidified air evenly
Continuous use of up to 18 hours
Adjusts accordingly to deliver accurate climate control
Quiet, ideal for night time use
Remote control included
The details
Height: 580mm
Weight: 3.4kg
Cord Length: 2m
Amp Diameter: 240mm
Base Diameter with plate: 222mm
What's in the box?
Dyson AM10 Humidifier
Remote Control