Product Information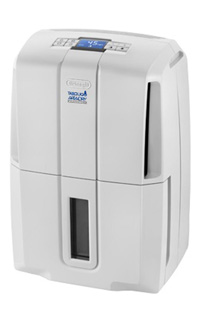 HIGH PERFORMANCE DEHUMIDIFIER
Protect your health and home agaisnt the harmful effects of mould with the DeLonghi AriaDry DDS30 compact 30L per day Dehumidifier. It works by removing excess moisture from the air that can encourage the growth of common allergens like mould and bacteria. The Dehumidifier also benefits from a special anti-bacterial filter to remove any airborne particles. This fast extraction Dehumidifier boasts a continuous drain option for premises which are left unattended for extended periods.

ADVANCED CONTROL
The advanced electronic control panel allows you to monitor and control the rooms humidity with ease. There's 3 fan speeds to choose from and a 24h timer mode too.
VISIBLE WATER LEVEL
The transparent tank lets you see the dehumidifier performance while it is working. Once the large 4.5L tank is full the dehumidifier automatically stops extraction to avoid overflowing.
DRY CLOTHES
Use the dehumidifier to dry your clothes inside on the those cold winter days without causing a build up of condensation. Clothes drying time is greatly reduced as will your heating bills.
COMPACT & PORTABLE DESIGN
This compact unit is fitted with a built-in carry handle and castors so you can move it from one room to another with ease.
Features:
Tank capacity: 4.5L
Electronic humidistat
3 Fan speeds
30 extraction per 24 hours
24 hours electronic timer on and off
Double condense elimination system to discharge the removed humidity: in the tank or uninterruptedly through the small pipe
"Tank Control System": the appliance stops when the tank is full. It works with the continuous drain discharge as well.
Electronic antifreeze device: it allows operating at low room temperature down to 2°C
Easy access washable air filter
R134a refrigerant gas
Practical handles and castors
For rooms up to 110sqm