Product Information
The AirCube Max from ElectriQ is a compact, energy efficient air conditioner great for bedrooms and offices or as a personal cooler.
The AirCube works straight out of the box and does not require any permanent installation. It is extremely portable and easy to move from room to room thanks to the recessed castor wheels. The AirCube Max can be controlled by handy remote control or using the user friendly control panel. A unique evaporation booster helps cool the refrigerated air further through the evaporation of water, while the outlet delivers refreshing cold air. Two speed fan settings ensure the right balance between maximum comfort and low noise level. The AirCube Max is a small and quiet air conditioner and the only air treatment unit you will ever need, a perfect all-year-round product.
Why this air conditioner is right for you:
For business enquiries, call 0871 6201056
5 in 1 unit incluing Air Con and Cooling
Compact and portable
Ideal for small rooms up to 15 sqm (cca 200 sqft)
24 hour start/ stop timer for pre-cooling rooms
Low power consumption
12 Month Hassle Free Warranty
Great compact air conditioner or personal cooler
Quiet, portable and easy to operate
Can cool rooms up to 15 sqm (170 sqft) or use as personal cooler
Cooling Capacity: 4,000 BTU / 1,100 kW - only half of the power usage of other portable air conditioners!
Auto-swinging directional louvers for improved cooling and air flow
24 hrs start / stop timer
Electronic touch panel controls and backlit LCD display
Advanced compressor protection technology
Remote control with hidden storage
Auto-restart on power off
Recessed castors for improved portability
The AirCube Max is your perfect all year round unit that offers all of these functions:

Air Conditioner
Stay cool and comfortable throughout the summer.

Personal Cooler

Enjoy spot cooling in small areas during hot summer days.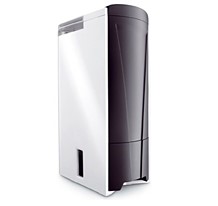 Dehumidifier
Remove damp and mould that can be damaging to your home and health.

Air Purifier
Remove allergens and improve the air quality in your house.

Humidifier
Helps combat the dry air and achieve a healthy balance.
Technical information
Rated power input (EN 60335): Cooling: 610 W; Dehumidifier: 610 W; Humidifier: 60 W
Max Noise Level (Sound Pressure): 56 dB(A); Noise Level (Sound Energy): 46 dB(A)
Air Flow: 150m3/hr
Running Current Cooling: 2.8 A; Allowable Pressure: 2.5 Mpa (max)
Power Supply: 220-240V/50Hz
Refrigerant: R134A, 210 g
Dimensions:
W x H x D: 285 x 500 x 375mm
Weight: 17.4Kg