Product Information
This is a graded product. A1 products are "as new" but have been box opened. All A1 products will be fully bubble-wrapped for transportation.
GRADE A1
"
Just great. I could not believe the amount of water it collects a day. Amazing.
"
clearfloat
- Aneta from Beckenham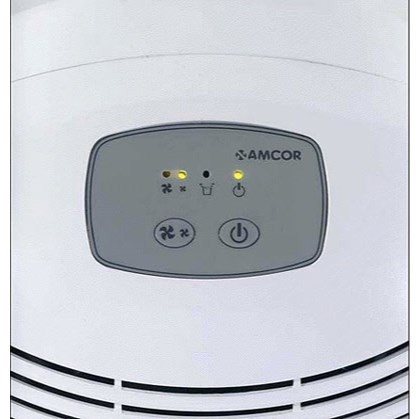 Healthier living
Moisture within your home, or the office, can be a cause of many issues like, itchy skin, condensation, mould growth or a musty odour. The Amcor AD12 removes excess moisture and reduces humidity to create a healthy and comfortable environment. The Amcor AD12 boasts a maximum extraction rate of 12 litres per day making it perfectly suited for flats and small houses up to 3 bedrooms in size.
Smart technology
Thanks to the fixed set humidistat, the AD12 will only function when required and will not run unnecessarily. This helps to achieve and maintain the perfect humidity in the home, while saving money and keeping energy consumption to a minimum.
Simple to use
This compact and lightweight dehumidifier features built-in castor wheels so that it can easily be transported around the home with minimal effort. The washable filters can be used over and over again, removing the need to purchase any replacements filters and saving you money for years to come. Once the water tank reaches its capacity, the Amcor AD12 will automatically stop working to avoid any chance of overflowing. You can empty the water via the easily accessible front loading water tank.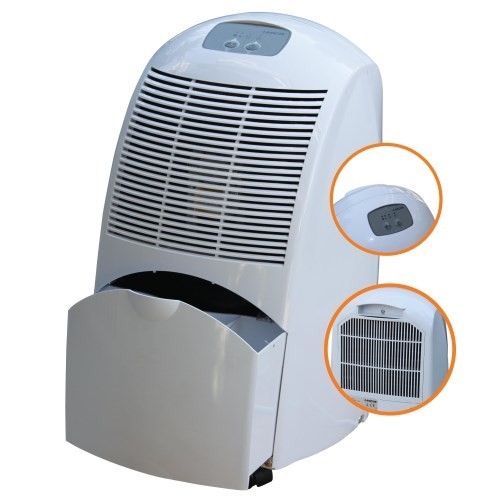 Key Features
Keep the mould and condensation at bay
Economical to run, ideal for normal household operation
Compact and lightweight
Easy access front loading water tank
Rotary compressor for quiet operation, fixed humidistat to prevent overdrying
Suitable for a 2-3 bedroom house or flat, or small office use
Classic design to fit any decor
Washable filter for economic operation
Automatic stop when water tank is full
LED control panel
Selectable 2 Speed fan
Water full indicator
Washable filter for economic operation
12 Litre per day (max) extraction rate
Automatic fixed humidistat will stop dehumidifying when humidity is bellow 40% RH (too dry) or above 90%(too humid for safe operation)
1.5 Litre tank with easy carry handle
Continuous drainage facility, just route a hosepipe outside or into a sink or drain
Castors for easy movement
Translucent water tank
Dimensions:
W x H x D: 291 x 476 x 264mm
Weight: 9.5Kg