Product Information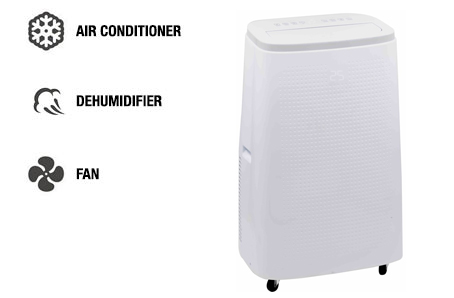 POWERFUL & QUIET
Some air conditioning systems are powerful yet noisy, while others are quiet but weak. The Silent16 Air Conditioner offers the best of both worlds delivering powerful cooling performance with less noise. Despite its portable proportions this air conditioner delivers cool fresh air for rooms up to 42 sqm. As well as offering powerful air conditioning, this energy efficient A rated model is packed full of useful features and is essentially a 3 in 1 unit - Air Conditioner, Dehumidifier and Fan.
QUIETEST IN ITS CLASS
As the name of the model suggests, this Air conditioner is quiet. In fact, its 30% quieter than other air conditioners in its class.
CLEVER DESIGN
Weighing in at only 33kg this model features integrated side handles and castor wheels to help you move it from room to room with ease. When not in use, the flow vents close to prevent any dust or dirt from getting stuck inside to prevent the unit from getting damaged. This model works straight out of the box and does not require any permanent installation.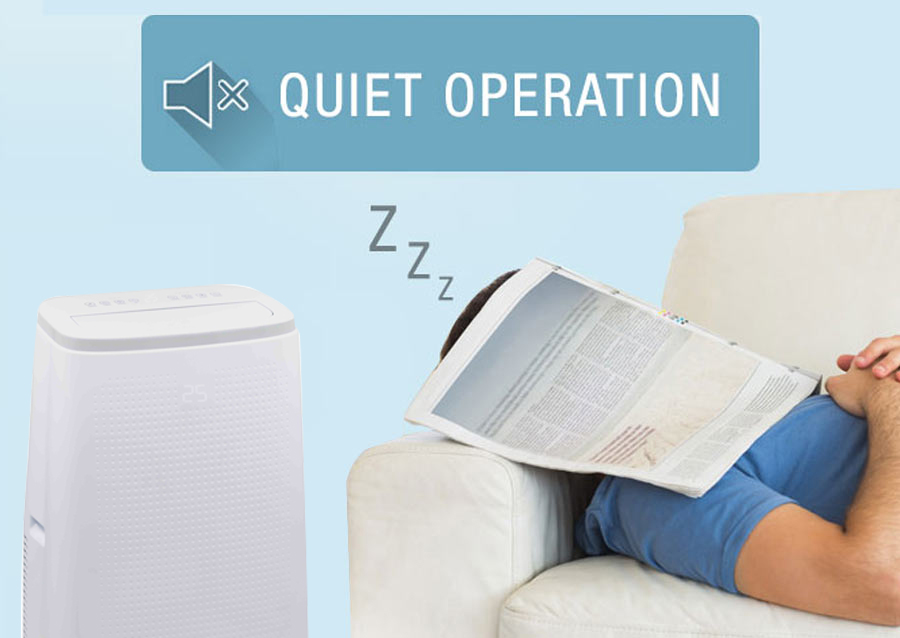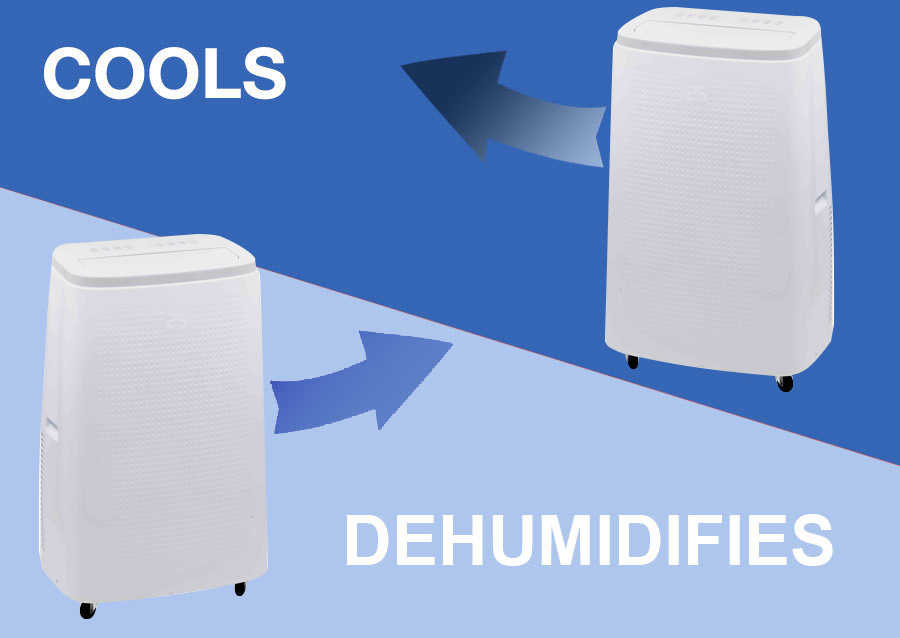 3 IN 1 DESIGN
This multi-functional model is the perfect all-year-round solution. It boasts a powerful air conditioner thats designed to cool large rooms, and a fan mode which delivers a powerful stream of cooling air for smaller spaces. The built-in dehumidifier function will help remove excess moisture from the air, up to 33L a day, to prevent excess build-up of condensation, mould and damp.
Why this air conditioner is right for you:
Quiet operation for its class
Compact and portable
Cooling and Dehumidifying
Powerful and fast air distribution
Ideal for rooms up to 42 sqm (cca 431 sqft)
1-24 hour timer great for pre-cooling the room or stopping it after a while
Sleep mode
Low power consumption
Key features:
Highly portable compact air conditioner
Self evaporating for improved cooling
Bright LED screen, indicates temperature and operation mode
Side handles and castors for easy movement
Anti-freezing protection
Full tank indicator
Compressor protection

Auto restart function
Technical Information:
Rated Voltage - frequency: 220-240/50
Max Cooling capacity: 16,000BTU/h
Cooling capacity (EN14511): 4.69kW
Input power: 1.6kW
Air flow : 480m3/h
Max dehumidifying: 33L/24h
Noise level (min-max): 38-48 db (A) Sound Energy / < 65 db (A) Sound Power
Compressor: Rotary
EER rating: A
1-24 hour timer
3-mode settings consists of cooling, dehumidifying and fan
HFC Free environmentally friendly air conditioner with Zero Ozone Depletion Potential
Included in the box
Fishtail adapter - to vent hose through an open window
Extendable hose
Sash window kit
Multi-function remote control
The window kit is only designed to be installed with sliding or sash windows and not to be used with any other style of windows. However the fishtail adaptor can be used with most windows / doors to vent the unit. When venting in the cooling mode ensure that the opening left is as small as possible.
Dimensions:
W x H x D: 480 x 780 x 390mm
Weight: 33Kg
Hose Length: 1.5m
Please Note: All portable air conditioners must be vented out so the heat is removed from the room that is being cooled. The ideal solution is to vent them through a wall or window. For your convenience this air conditioner is supplied with a hose and a window venting kit so you can start using it straight away! The provided kit is designed to be installed with sliding or sash windows but is not ideal for other window types. However the provided fishtail adapter can be used with most windows or doors. During cooling, the fishtail reducer ensure that the opening is as small as possible. For even better cooling we provide an optional universal window seal at checkout.