Product Information
This is a graded product. A1 products are "as new" but have been box opened. All A1 products will be fully bubble-wrapped for transportation.
GRADE A1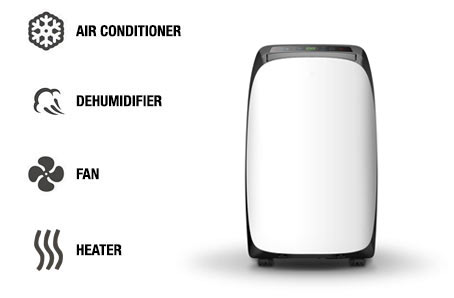 POWERFUL YET PORTABLE
Introducing the PLAC12000HP, our latest energy-efficient 4-in-1 air conditioner from ElectriQ that performs as good as it looks. With it's stylish good looks and powerful 12000 BTU technology, the PLAC12000HP is designed to keep your home comfortable all year long without looking out of place. It functions as a Air Conditioner, heater, dehumidifer and fan, making it perfect for both summer and winter.
4 IN 1 DESIGN
This multi-functional unit is ideal for cooling, heating or dehumidifying a medium to large sized room (up to 30 sqm / 330 sqft). The air conditioner features a unique evaporation booster which provides a refreshing, cooling effect for larger areas, while the 3 speed fan delivers a powerful stream of cooling air for smaller spaces. The dehumidifier can extract up to 50L of excess moisture from the air per day to create a healthier environment.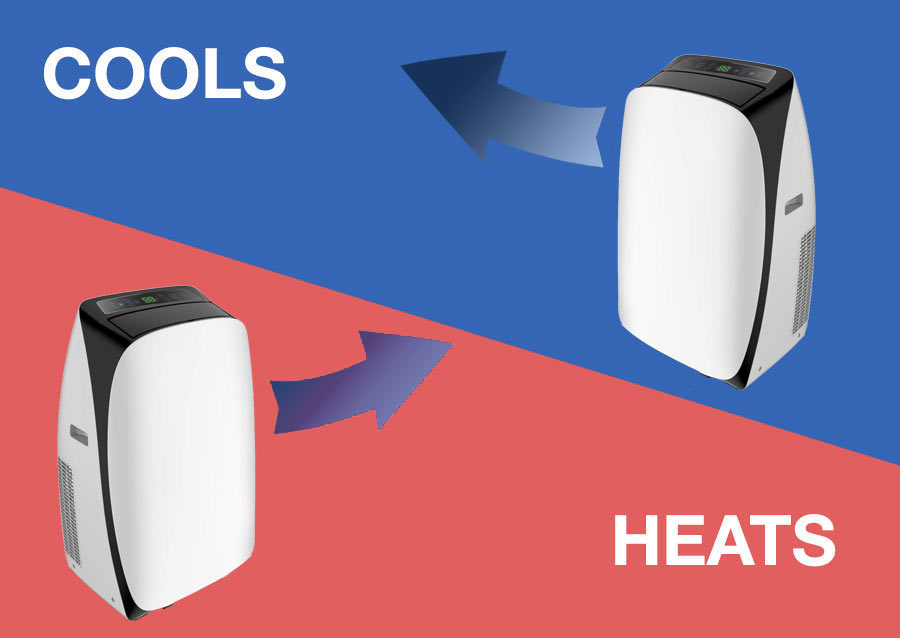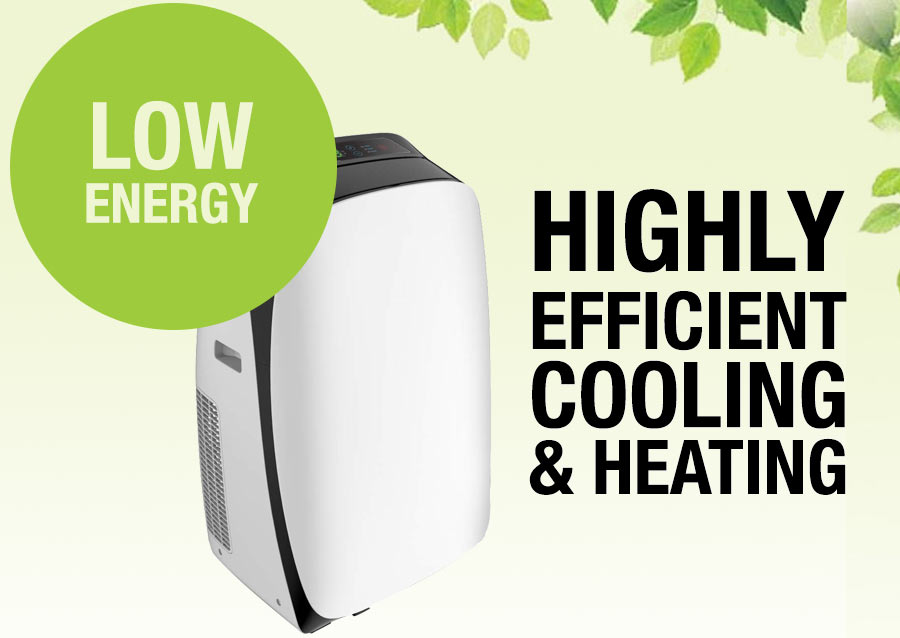 ENERGY EFFICIENT
This energy conscious air conditioner features the most efficient type of cooling and heating systems to deliver impressive performance without compromising power consumption. It requires only 1 kW of power to produce 3 kW of heating, which works out far more cost-effective when compared to electrical or central heating. Plus, it's been awarded an impressive 'A' energy efficiency rating which makes it cheap to run and can bring down the cost of your energy bill.
CLEVER DESIGN
This stylish unit comes with a remote control, an integrated handle and durable castor wheels for easy manoeuvrability. The digital control panel allows for quick and easy operation of the air conditioner's multiple functions including the three fan speeds and 24 timer settings. The large outlet delivers the same refreshing, cooling effect that you'd expect from larger, more powerful air conditioners. Best of all, the unit doesn't require any installation so it's ready to use straight out of the box.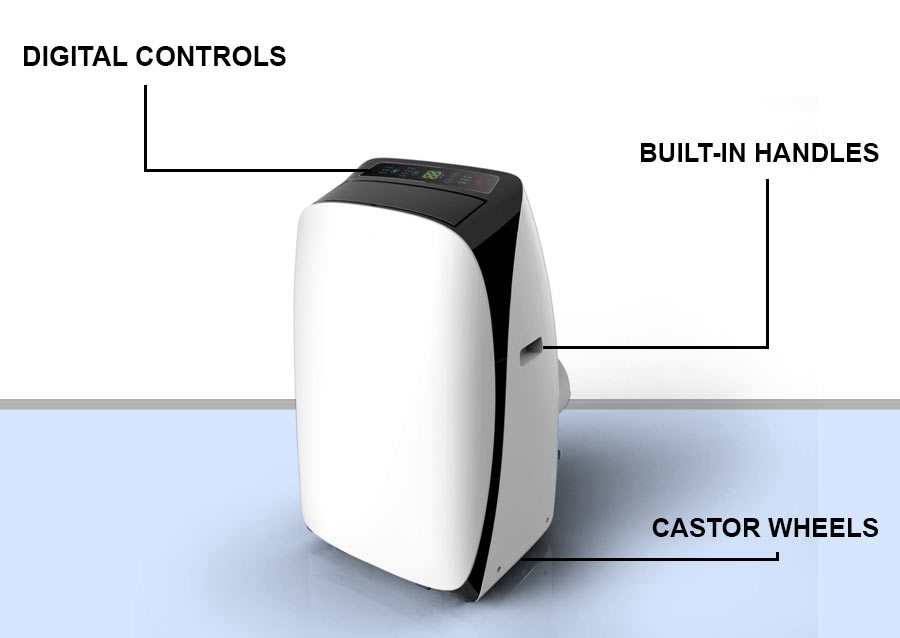 Why this air conditioner is right for you:
High Quality, designed to last
Cooling, Heating and Dehumidifying
One single device for use all year round
Compact Design, Touch Pannel Controls, Space saver
12,000 BTU Cooling with Cheapest Heating (3.5 kw cooling, 3.3 kW heating)
Very low power consumption
Good for Home, Office, Caravan or Boat use
Ideal for medium sized rooms up to 30 sqm (330 sqft)
This air conditioner is packed full of features:
Electronic panel display
24-hour on/ off timer
LCD Remote control with temperature display and follow me function
Unique evaporation booster for high efficient cooling
Swinging louvers for maximum efficiency and improved airflow
3-speed turbo fan and sleep mode for perfect balance between running quiet and maximum efficiency
R410A green refrigerant for improved cooling
Cable management compartment at the back
Top louvers outlet closes automatically when switching off the unit to prevent dust and debris entering the unit
The LED screen can be turn off during night to prevent light pollution
Self Cleaning and anti mould options for easy maintenance
Technical Information:
4 in 1 unit with Heating, Cooling, Fan, Dehumidifier function
Toshiba GMCC compressor*
Dehumidification max L/day 50
Fan speeds 3
Air flow (at high speed) - m³/h 410
Power supply (V) 220-240
3.5 kW Cooling, 3.3 kW Heating (EN14511)
12,000 BTU
Running Power consumption (W) 1.34 kW (cooling), 1.18 kW (heating)
Running Current: 5.11 Amps
Refrigerant R410
1.5m hose, window and wall kit supplied as standard
Noise dB - Noise Level: 49-56 db low/high mode(sound power method)
EU label: max 64 dB (sound pressure method)
Thermostatic range: 16-31 C
EEE: 2.62; COP: 3
12 Month hassle free warranty!
Dimensions:
Dimensions:480x400x759 mm
Weight (Kg) 33
Hose Diameter: 15cm
The window kit is only designed to be installed with sliding or sash windows and not to be used with any other style of windows. However the fishtail adaptor can be used with most windows / doors to vent the unit. When venting in the cooling mode ensure that the opening left is as small as possible. The air conditioner will need to be vented out also in heating mode, ideally through the wall. By properly venting you expel cold air from your room while efficiently heating it.
*GMCC is one of the largest manufacturers of compressors in the world and they have a strategic partnership with Toshiba being used as RD facility and manufacturing plant by Toshiba. Toshiba GMCC compressors are using latest technology and they go through strict testing.
Useful Information:
What is a BTU?
1 BTU is the amount of heat required to raise the temperature of one pound of liquid water by one degree from 60° to 61° Fahrenheit at a constant pressure of one atmosphere. As a general rule we advise you to buy an Air Conditioner with a minimum 3,000BTUs as this is the minimum required to cool a small room (12sq/m) on a hot day. Medium rooms (24sq/m) need around 10,000BTUs and larger rooms and office spaces (36sq/m) require around 15,000