Product Information
ALL-IN-ONE AIR CONDITIONER
Perfectly sized for small to medium spaces like a home kitchen or bedroom, the Amcor SF8000E slim-line portable Air Conditioner delivers unrivalled cooling performance and value in its class. As well as offering powerful air conditioning, this energy-efficient A-rated model is packed full of useful features and is essentially a 3 in 1 unit - Air Conditioner, Dehumidifier, and Fan.
Air Conditioner
Heatwave coming up? Don't sweat! This great value air conditioner boasts an impressive cooling capacity of 7,000 BTU, which is more than enough to cool rooms up to 18 sqm.
Cooling Fan
Great for small rooms, caravans, boats, or where space is limited, the cooling fan function is perfect when you need to cool one part of your room - ideal for when you're on your own or don't want to waste time and money cooling unnecessary areas.
Dehumidifier
With the ability to extract up to 20 litres a day, the powerful dehumidifier setting can help prevent health problems that result from condensation, mould and damp.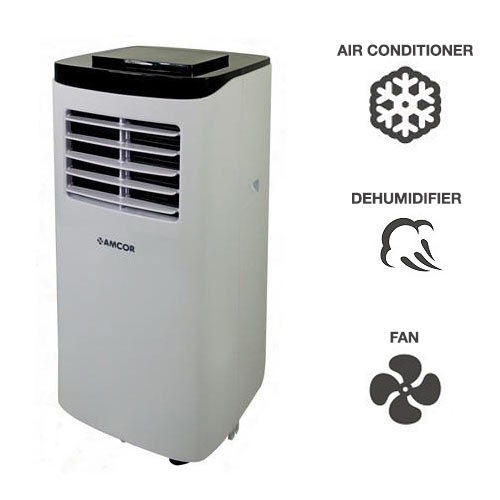 This portable unit comes with remote control, an integrated handle, and durable castor wheels for easy manoeuvrability. The digital control panel allows for quick and easy operation of the air conditioner's multiple functions, including fan speed, timer/sleep mode, and temperature settings.
Please Note: The stock of this Air Conditioner often sells out fast due to the low price. We advise that you order as quickly as possible to make sure you don't miss out.
Who is Amcor?
Amcor Group is one of the Worlds largest air conditioner manufacturers. For over 60 years, Amcor has specialised in indoor environmental control. They focus on creating only the highest quality products making them the most trusted brand available.
Why this air conditioner is right for you:
3 in 1 unit with Cooling, Fan, Dehumidifier function
Compact and portable
Ideal for home use - small-sized rooms up to 18 sqm (approx 200 sqft)
24 hour start/ stop timer for pre-cooling rooms
Low power consumption
12 Month Hassle-Free Warranty!
This air conditioner is packed full of features:
Highly portable slimline air conditioner
Easy-set electronic touch controls with remote control
Compact and small to suit average sized rooms up to 18M² (cca 200 sqft)
Cable tidy system at the back
Wheels and handle for easy movement
Remote control
Reusable washable pre-filter
1.5M hose and window kit supplied
12 Month hassle free warranty!
Technical Information:
7000 BTU
Cooling capacity - 2.06 KW
1-24 hour timer
2-speed turbo fan
Noise dB - Noise Level: 38-48 db low/high mode(sound power method) EU label: max 65 dB (sound pressure method)
4-mode settings consist of Cool, Dehumidifier, Fan, and Sleep
Thermostat range - 16-31°C
Dehumidification - max - 20 L/Day
Fan speed - 2
Airflow (at high speed) - 300 m3/hr
Power supply - 220-240V
Energy rating: A
Running power consumption - 792W
Running current - 3.9 A
HFC Free environmentally friendly air conditioner with Zero Ozone Depletion Potential
Dimensions:
Dimensions: 328X 305 X 678mm
Weight (indoor/outdoor) - 21kg
Hose Diameter: 15cm
Hose Length: 150cm
Please Note: All portable air conditioners must be vented out so the heat is removed from the room that is being cooled. The ideal solution is to vent them through a wall or window. For your convenience, this air conditioner is supplied with a hose and a window venting kit so you can start using it straight away! The provided kit is designed to be installed with sliding or sash windows but is not ideal for other window types. However, the provided fishtail adapter can be used with most windows or doors. During cooling, the fishtail reducer ensures that the opening is as small as possible. For even better cooling we provide an optional universal window seal at checkout.
What is a BTU?
1 BTU is the amount of heat required to raise the temperature of one pound of liquid water by one degree from 60° to 61° Fahrenheit at a constant pressure of one atmosphere. As a general rule, we advise you to buy an Air Conditioner with a minimum 7,000BTUs as this is the minimum required to cool a small room (18sq/m) on a hot day. Medium rooms (24sq/m) need around 10,000BTUs and larger rooms and office spaces (36sq/m) require around 15,000BTUs.