Product Information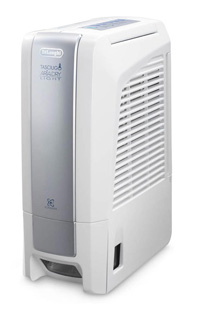 REMOVE MOULD, DAMP & MILDEW
Remove excess moisture from the air that can lead to the build up of mould, mildrew and other damp related problems with the DeLonghi DNC65 dehumidifier. This ultra quiet model boasts a built-in ioniser and filter to clean the air from common allegens, which makes it ideal for using at night and may even help thoses with breathing difficulties sleep better. The dehumidifier can also be used to dry clothes faster and will work effectively at all temperatures as low as 2 degrees.

MINIMUM NOISE EMISSIONS
Perfect for using at night when sleeping, the DNC65 dehumidifier boasts an ultra low noise level of only 34 db thanks to the omission of a compressor unit. Best of all, it does all this without ever compromising on dehumidifying performance.
DRY CLOTHES FUNCTION
This special function lets you dry your clothes inside during the winter months without causing a build up of condensation. The DNC65 not only collects the extra moisture from the air but it can help to dry your clothes quicker too.
AIR FILTRATION SYSTEM
The DNC65 comes with a built-in ionizer and anti-bacterial filter to trap any airborne particles that may be damaging to your health. It also reduces allergens in your home to alleviate asthma symptoms.
COMPACT & LIGHTWEIGHT
This portable unit weighs in at a mere 5.5Kg and is designed to fit discreetly into the home thanks to it's compact body. It's one of the lightest dehumidifiers on the market and among the most compact - ideal for areas with limited space.
Features:
Tank capacity: 2L
Dimensions H48 x W19 x D32.5cm
Filters Anti-bacterial
Guarantee 1 year guarantee included
Wattage 495W
Continuous drainage facility removes the need to empty the unit which is particularly useful for premises which are left unattended for extended periods.
3 speed fan varying the speed of the fan allows you to change the amount of water being extracted from the air.
Quiet operation
Perfect for drying clothes
Compact design with pull handle for easy movement around the home
Weight 5.5kg