Product Information
This is a graded product. A1 products are "as new" but have been box opened. All A1 products will be fully bubble-wrapped for transportation.
GRADE A1
A breath of fresh air
The Heaven Fresh Intelligent air purifier combines seven proven air purification technologies that effectively remove virtually all types of pollutants including dust, allergens, chemicals, cigarette and cooking smoke odours and micro-organisms. Intelligent unit is equipped with advanced sensor technology to monitor air quality. The multiple air inlet design enables maximum air flow through the unit, optimizing air-cleaning efficiency. The powerful fan (106 cubic feet per minute) accelerates the air through the air outlet circulating purified air and millions of air-cleaning negative ions throughout the room. The NaturoPure HF380 covers 60 m² (650 ft²) which makes it suitable for large living rooms, dining rooms, family rooms and office areas.
7 STAGES OF AIR PURIFICATION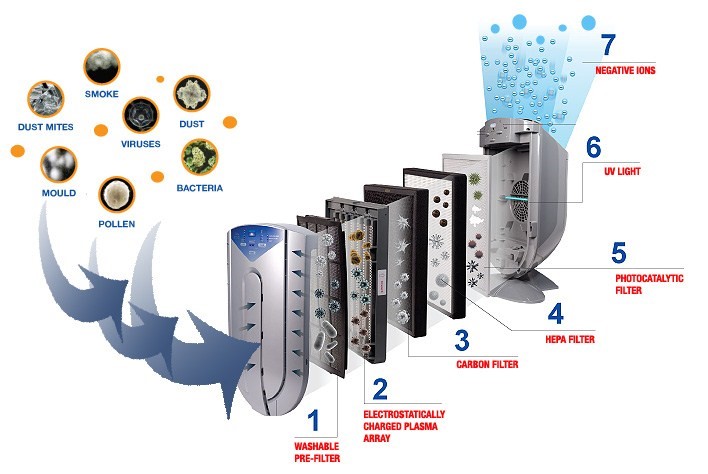 MORE REASONS TO BUY ME
Easy Maintenance with Smart Sensors: Active sensors monitor air quality and tell you when to clean filters.
Auto-Adjusts to Your Environment: Sensors automatically boost cleaning power when needed.
No Clog Design for Rapid Purification: Purifies the air in an area up to 650 ft² (60.4 m²) in just 50 minutes.
Low Cost Maintenance: Three permanent filters extend the life of the replaceable filter
Effective Air Circulation: Clean air is directed upwards for unobstructed air circulation
Whisper Quiet Operation: Advanced fan design delivers rapid air flow at just 20 decibels.
Targets All Pollutants: Multiple purification technologies target virtually all pollutants.
Key Features
For large sized rooms up to 60 sqm.
Odour and dust sensors for automatic air quality control.
Sensors indicate when to replace filters and clean collector grid.
UV light and negative ion indicator sensors.
Long-lasting, high-efficiency HEPA filter - 99.97% collection rate.
Electrostatically-charged plasma cell - traps pollutants like a magnet.
Activated carbon filter traps chemicals, gases and odours.
Germicidal UV lamp destroys micro-organisms.
Air-cleaning negative ions are circulated throughout the room.
Powerful yet quiet fan for maximum air circulation.
Washable pre filter to collect the larger particles.
Photocatalytic oxidation filter which effectively reduces chemicals, bacteria and odours.
1 Year Warranty
Technical information
Power consumption: 80 W (High Setting)
Ion output: > 4,000,000 / cm3
UV: 20uw (254 Nanometers)
Dust Removal Rate: 99.97%
Noise Level (dB): Silent (20) Low (35) Med (45) High (52)
Air Volume: 106 Cubic Feet per Minute (High Setting)
Dimensions:
W x H x L: 254 x 610 x 343mm
Weight: 6.8Kg
Useful Information: